I've always wanted to ride a motorcycle …
… but aside from being on the back of my buddy (Ben)'s 250 Honda Shadow in high school I had never been on one, let alone driven one.
Living in Ontario didn't afford many opportunities to become a biker, at least not nearly as many as existed in Nova Scotia. There are bikers EVERYWHERE here. Also not living in Toronto seemed to make a difference in when/where I would be riding. I wouldn't be in lanes upon lanes of traffic on the 401 or stuck downtown with streetcar tracks running through the roads. I was now on the east coast and generally would be dealing with favorable traffic conditions. I decided to take the plunge!
Like most new riders …
… I struggled with what to do first. Do I go out and buy a motorcycle or do I take the safety riding course and learn how to ride and THEN buy a bike. I ended up choosing the latter, my family was gone for a month over the summer so I signed up on a waiting list to take the safety course. Less than a week later they called and I was in the course that upcoming weekend.
The course taught me a lot! The first night you and a partner push each other around the lot, you don't even START the bike until the second day.
I was lucky, turns out I was a natural and quickly took to riding the bike. The instructor told me as much when he gave me my certificate "you're a natural, take it easy on your first couple trips out into the real world and you should be fine."
Searching for Jolene
I LOVE to scroll through kijiji looking at motorcycle ads. It took me 3 years to buy Jolene not for any other reason than money, but I looked through ads the entire 3 years between passing the course and buying my first motorcycle. There is something enjoyable looking at what is for sale, becoming aware of the available options months before you are ready to buy IMO.
I had seen this 2003 Suzuki Volusia advertised for awhile, it was right around my price range $2,500 and i liked the look. She was a cruiser but looked a bit different than the Honda ACE or Yamaha V Star which seemed to be everywhere. I was learning something about myself right then, I liked bikes that drew attention and were a bit different than the norm.
It was finally time, I went with a buddy who knew about bikes and who was there to keep me from buying total junk (although this bike did end up having some issues) and as soon as I sat on her I knew I was taking her home.
She was 800 cc's but felt more like a 1200, the gas tank was big and she was a bit heavy so she looked and felt bigger than her engine size.
After about a season or two of riding the bike it became clear I needed to do something about the paint. The 'burnt orange' had been done by hand by the previous owner and was a sloppy job, it also hid some pretty poor repairs as well.
As soon as I decided to paint the bike I started to imagine what the next iteration of her would be. I scoured the internet looking at pictures of similar bikes and how they had been done up. One of the resources I used most was volusiariders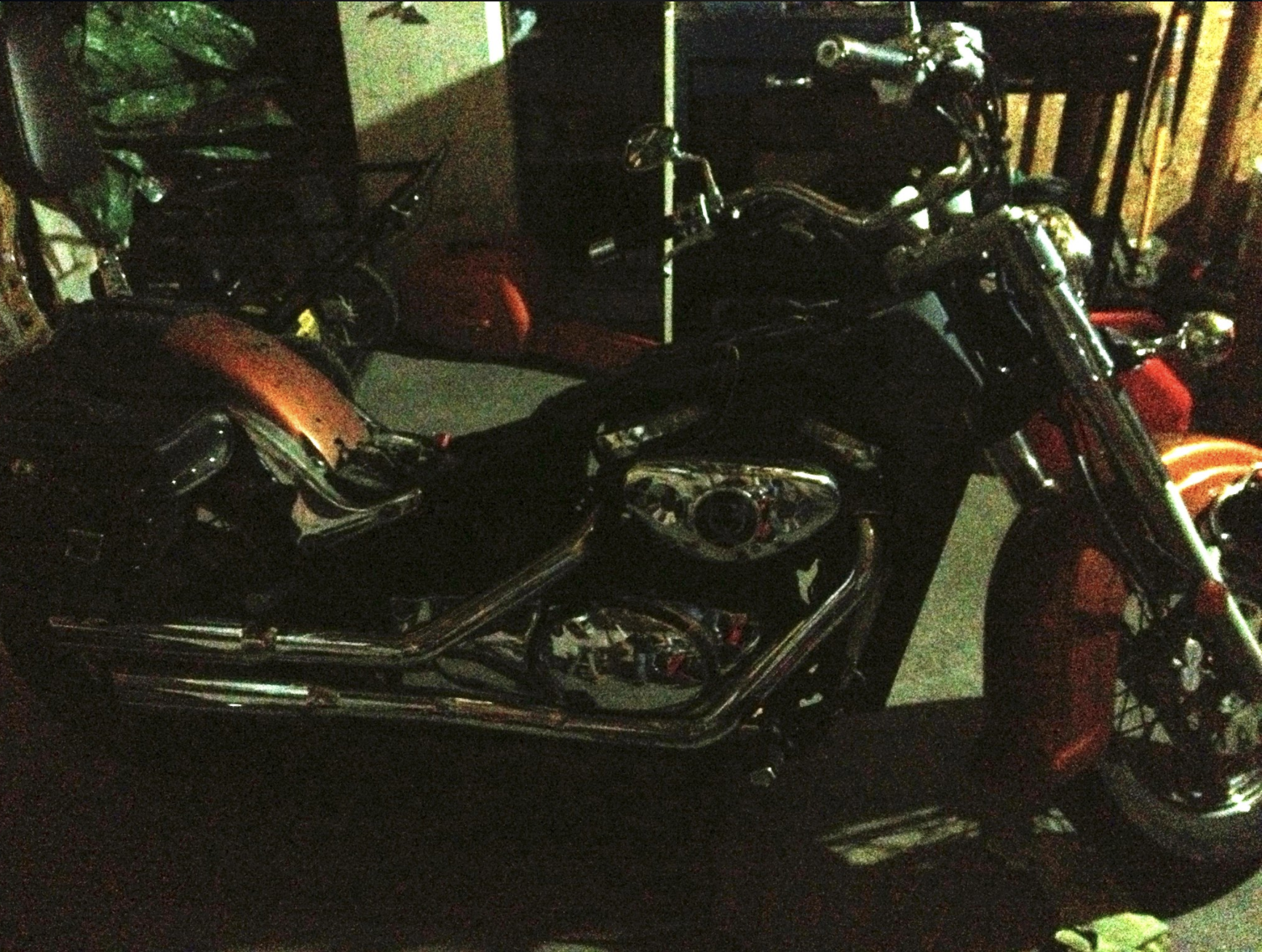 Turns out both my front and rear fender needed to be replaced, they were held together with bondo and were in rough shape.
I also decided I wanted a batwing fairing. Instead of buying a pre-made, guaranteed to fit one at around $500.00 I thought maybe I could find a more affordable way. This was my BIGGEST mistake. I should have just paid what it cost.
Instead I found this fairing and the brackets that came with it on the volusiariders forum. I paid a couple hundred bucks (with shipping) to get the thing delivered only to find out after paint that the brackets that came with it were fucked. I'd end up spending months searching for someone who could figure out a way to fit this to the bike. By the time I was done it ended up costing twice as much as just buying a brand new one. #burn
A friend of mine who works as a mechanic hooked me up with a guy who agreed to paint the bike over the winter and charge me $600. After months of calls and emails this guy informed me at the begging of April that he wouldn't have time to do my bike. What a dick!
I searched everywhere for a new person to get the paint done. I posted on kijiji, facebook groups and called anyone I knew. Most of the people I dealt with were rude or disinterested. I was shocked that this many people didn't want the work. Finally I found a guy (Rob) who agreed to paint the bike but for $1000.
So ultimately ended up costing nearly twice as much as I had budgeted but she sure did look good.
Ultimately time came and I had to part with Jolene. I'll never forget her though, she was my first motorcycle love and will always hold a special place in my heart.