My family is British …
Meaning I come by my love of Corrie (that's what us hardcore fans call the show) honestly. My mothers family is from England, my mom was actually born there but spent most of her life here (in Canada) so doesn't have an accent. Tea, darts and Coronation Street were the cornerstone of my upbringing.
The Theme Song
(click on the video to let that play while you continue the blog)
As a kid, when this song hit it signified that now was the time to not speak. Back then, CBC played Corrie during the day, at like 3 pm. So my grandfather had his VCR programmed to record it every day, he would come home from work, pull up the TV tray and settle in. If you DARED to speak during this time, you would likely be hit by something thrown at you. I remember hating this song, literally leaving the room when it came on. It was just easier that way.
I'm sure if you speak to my brother or sister they will agree. Not only was Coronation Street something we were subjected to whenever we visited our grand parents, but now it was also happening in our house.
Within a few years ..
My parents had starting watching it too, by this point CBC was running what they call the 'omnibus' of all the episodes for a past week in a big block on Sunday mornings.  Suddenly this event that had only occurred at my grandparents house was soon happening every Sunday in my own. I couldn't escape that SONG, it was like it was following me everywhere I went.
Soon it was time for me to leave my childhood home and head off to college. I chose to move at least a couple hours away and since leaving home then when I was 18 I have never lived in my parents home again. Sheridan College in Oakville was the lucky post secondary institution that received all of my thousands and thousands of dollars.
In that first year I ended up living with my childhood buddy Archie and 3 other second year students in a townhouse and guess what?
Liz one of our roommates watched Corrie!
But this time my experience was different, I found myself joining her on Sunday mornings (usually hung over) lying on the couch and enjoying in the comfort of 'the street'. While everything else in my life was new and different, Corrie was a constant. Some of these characters I had now been watching for 10 years or so, they were like family to me. I never really thought about it much until writing this article but Corrie was one of the few things from home that I allowed in my new life. I'd had long hair all the way through high school which I cut off before starting college.  All of my belongings fit into 2 cardboard boxes, none of which I own to this day.
After College I moved to Toronto and once again Coronation Street was there for me. At this point I had realized that I wasn't just watching the show but I had become a fan, I was actively joining in on the fandom aspect of the show.
My girlfriend at the time was also a fan and we found a pub in Toronto (the Roy Public House) that you could go to on a Sunday morning and watch. The entire place was filled with Corrie fans and everyone was having breakfast, drinking pints and watching the show. It was heaven.
The other thing that started to dawn on me was how long I had been watching some of these actors, they had literally aged 20 years in front of the TV cameras.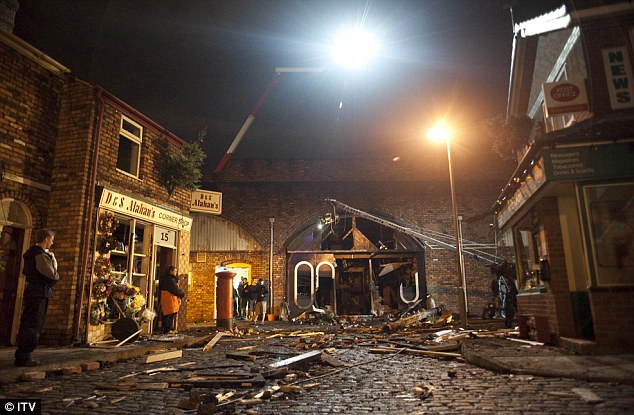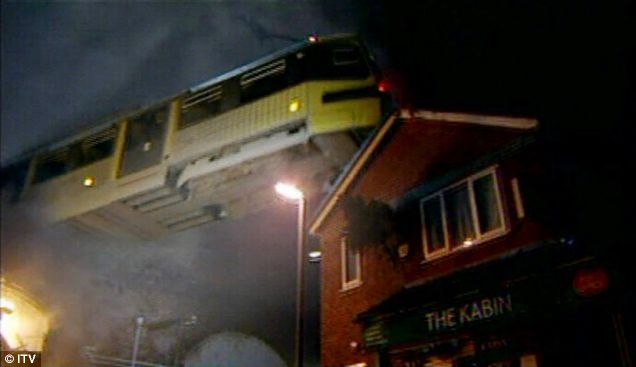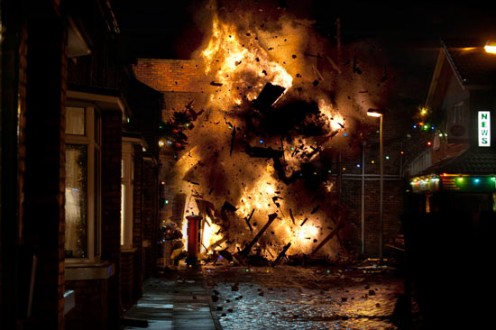 The Tram Crash
In 2010 for the 50th anniversary of Corrie the writers planned and in my opinion executed one of the best storylines that modern TV has every seen. After a particularly rowdy stag dew at the local restaurant on the street The Joinery an explosion weakened the overhead viaducts and suddenly 2 tram cars (subway cars) crashed into the street destroying 2 buildings and killing 3 people.
I remember watching completely shocked and dismayed. It was unbelievable, this show focused (like any good soap opera) on a group of people and the ins and outs of their messy lives. But this tragedy was profound. It came out of nowhere, there was no foreshadowing like the show will sometimes do to hint at danger ahead.
Of the three characters killed, Ashley the local butcher was a huge fan favorite. I remember crying my eyes out as the story unfolded and it was confirmed that he died. My wife and I were gripped entirely by this story, we felt the tragedy that these characters felt, we saw the heartbreak in their eyes.
As the aftermath of the tram crash played out, I knew I was hooked, I knew that asked from my family this was now one of the longest relationships in my life.
So yes, I'm not afraid to admit that I cried during that episode. I also cried when poor Mike Bladwin, his mind going from alzheimers suffering from pneumonia stumbled out into the street and died of heart attack alone looking up at his mortal enemy and dying in his arm.  I say I cried when Fred died, I say I cried when Fred died on the day he was supposed to get married. And I balled my eyes out when Jack had his last moments on the show and the producers brought back the actress to play a ghost of his dead wife.  And I cried deeply when Hayley, the worlds first Trans Gender character quietly lost her battle with cancer and died in Roys arms.
Son of a bitch and now I'm balling all over my keyboard. It seems that crying over TV is pretty hip right now, This Is Us seems to be gaining some popularity because of that, but I'll take Coronation Street over This Is Us any day of the week.